For the Love of Tiny Humans
Designed by a modern mom-of-three, Vivi G'z patented booties, has solved the missing baby sock and shoe dilemma! With soft elastic to keep baby from pulling them off and available in a collection of modern prints, Vivi G'z booties add a fun splash of style to your kids' wardrobe while alleviating another "mom-on-a-missing-sock mission".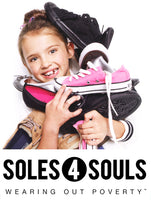 Our Giving Partnership
Vivi G'z partners with Soles4Souls, a non-profit organization dedicated to "wearing out poverty" for children by providing shoes for those in need. Making a difference is important to us and we hope it is to you too which is why a portion of Vivi G'z profits go to Soles4Souls.
About Soles4Souls